Custom Child Care Benefits Solution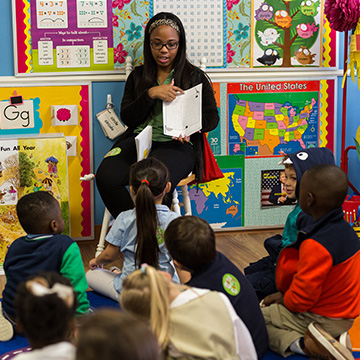 Sometimes, child care needs vary across an organization. A combination solution might include an onsite center as well as utilizing our network of schools in your community, or even nationwide. We're here to help employers develop a child care benefit program to create flexibility and ease the total cost of child care. Together, we analyze the culture of your company and design a customized solution.
Our Solutions

We're proud to offer customizable solutions for organizations looking to provide assistance with finding care and helping families afford it. These solutions can include a combination of:

Employer Tuition Subsidy: 20 – 100%; You assist your employees with their child care costs
Tuition Discount Program: 10% tuition discount for a fixed fee
Guaranteed Spaces: Assist employees with always having care; reserve spaces in local schools
Back-Up Care: Working parents need a safety net; we're here if regular child care falls through
Onsite Child Care Centers: We manage a center at your location or help you build a new one—we can build whatever you need!

We focus on being the industry's most cost-effective provider of child care services. Our solutions are developed by understanding the specific needs of each partner, which often results in unique solutions. Our clients have the freedom to customize curriculum, the type of subsidy program they offer their employees and even the financial model of an onsite. As market needs change, we are always evolving and finding new approaches that will positively impact our customers and our industry. Our creative methods help us maintain an edge and a position of leadership in our industry.
Our Network Of Schools

For more than 50 years, Learning Care Group has partnered with Fortune 500 companies, hospitals, universities, government agencies, and small businesses to design unique child care benefit programs to meet the needs of their employees. Our success metrics are simple:

Thriving children | Happy families | Satisfied partners

Learning Care Group maintains ongoing dialogue with our partners so we can continually assess your program's performance and ensure success. We seek and value feedback from our partners, leveraging these insights to ensure an exceptional experience for children, parents, and partners.

Ready to design a custom solution for your team?

Email partnerships@learningcaregroup.com or call 866.829.0027 to get started.